About us
The Cobalt Institute is a trade association composed of producers, users, recyclers, and traders of cobalt. We promote the sustainable and responsible production and use of cobalt in all its forms.
Cobalt Facts
Cobalt is a technology-enabling metal that is part of the solution to the green energy transition. Learn more about cobalt reserves, cobalt supply chain and cobalt market.
Event
Cobalt Congress
9-11 May 2023
This year, the Cobalt Congress will look at the role of cobalt in a shifting geopolitical landscape. We will discuss the global market dynamics, the geopolitics of cobalt, and the importance of building a responsible and transparent cobalt value chain.
All the information about the Congress can be found on the Cobalt Congress website.
The Commission's Critical Raw Materials Act, published today, is a step in the right direction towards ensuring the EU's access to a secure and sustainable supply of critical raw materials and achieving the green energy transition.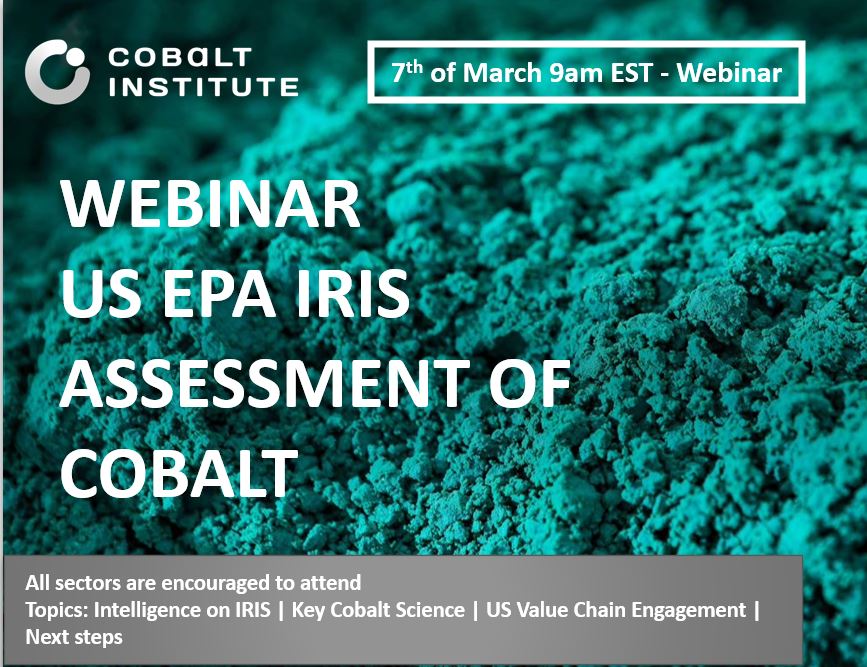 The Cobalt Institute is pleased to invite you to our upcoming Webinar on the US Environmental Protection Agency (EPA) Integrated Risk Information System (IRIS) Assessment of Cobalt on the 7th of March...
The Cobalt Value Chain
The Cobalt Institute's cobalt value chain mapping is a detailed overview of all stages of cobalt production – from mining to recycling – and the actual and potential human rights and environmental risks related to them.